This HubSpot module was designed to let CMS Hub users easily create a dynamic module to suggest related offers to the visitors of their website. The module lets users list all their offers into HubDB so they can get them and display them wherever they want on their website.
How it works
The module will present a number of offers that are recommended to the client.
Offers are recommended based on category.
The offers will be sorted from newest to oldest, to push the content that is most likely to have not been seen yet.
Every offer will feature a thumbnail, a name, a date and will link to the offer's landing page
If no offer is found for the category, it will display your most recent offers from all categories
Customization
Aside from the text and the image that you set in your hubDB rows, the font and the different text colors are customizable.
Style the button (shape and colors)
Pick the number of offers presented (maximum of 16)
Choose the category of offers you want to present
Setting up
This module is highly dependent on your HubDB "offers" table structure. Here are the specific column names and their type you need for it to be compatible.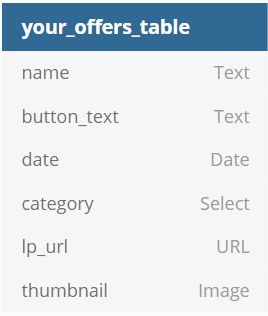 The column labels can be anything you want and any other column can exist.
Here is an example table you can base yours on:
If you don't know how to create a HubDB you can visit this link from the HubSpot Knowledge base:
https://designers.hubspot.com/docs/features/hubdb
Every category option you add here will have to be edited into the module category selector:
How to set your own categories in the module:
Add the module to your template
Click edit module source code, under "more" menu (although you won't need to edit the source code)
Now you can edit the choice field and set your own categories!
Hover over the category filter field and click edit.
That should bring you here.
You can modify the labels and add or remove elements.
The labels should correspond to the options you have in your hubDB for "category" and the values should be numbers starting at 0 and incrementing by 1 for each choice .
It is important to follow the same order as the one in your hubDB.
The module uses the number values to find the corresponding category and filter your offers.
If you have further questions, you can contact us at support@auxilio.io