Clean up your HubSpot CRM in 24 hours
Tidy up, clean up, throw away, sort... Are you familiar with spring cleaning, or winter cleaning for the more daring?
You should also clean up your CRM, once or twice a year to keep your data clean and usable.

A list of contact and company data degrades by 2-3% per month. This means that your CRM deteriorates by 30% year on year*. 😲
*Source: ZoomInfo
And yes, this is no joke, your CRM is like your washing machine, if you don't maintain it, after a few years it will slowly perish.
Or if you don't clean it regularly, you'll have to spend weeks or even months doing a huge cleaning 🚯

CLEAN THE BASE OF YOUR DATA STRUCTURE IN THE HUBPOT CRM
The data structure in your system is :
Your native objects (contacts, companies, tickets, etc) and custom objects if you have any,
Your properties for each object,
Your associations between each object.
Review all these elements which are essential for the good use of your CRM.
Wonder about the following questions for each element:


Is it really useful for my business (usefulness for your business model)?
Does this element contain information (empty or filled in?)?
Is this information unique (to avoid duplication)?
Can I use this information to take action (reliability of information)?
HubSpot offers a really interesting feature to have visibility of its data structure. It's the "Data Model Overview" (go here: https://app.hubspot.com/data-model-overview/YOUR_HUB_ID/). Super interesting to see all your data interrelated. Below is an example.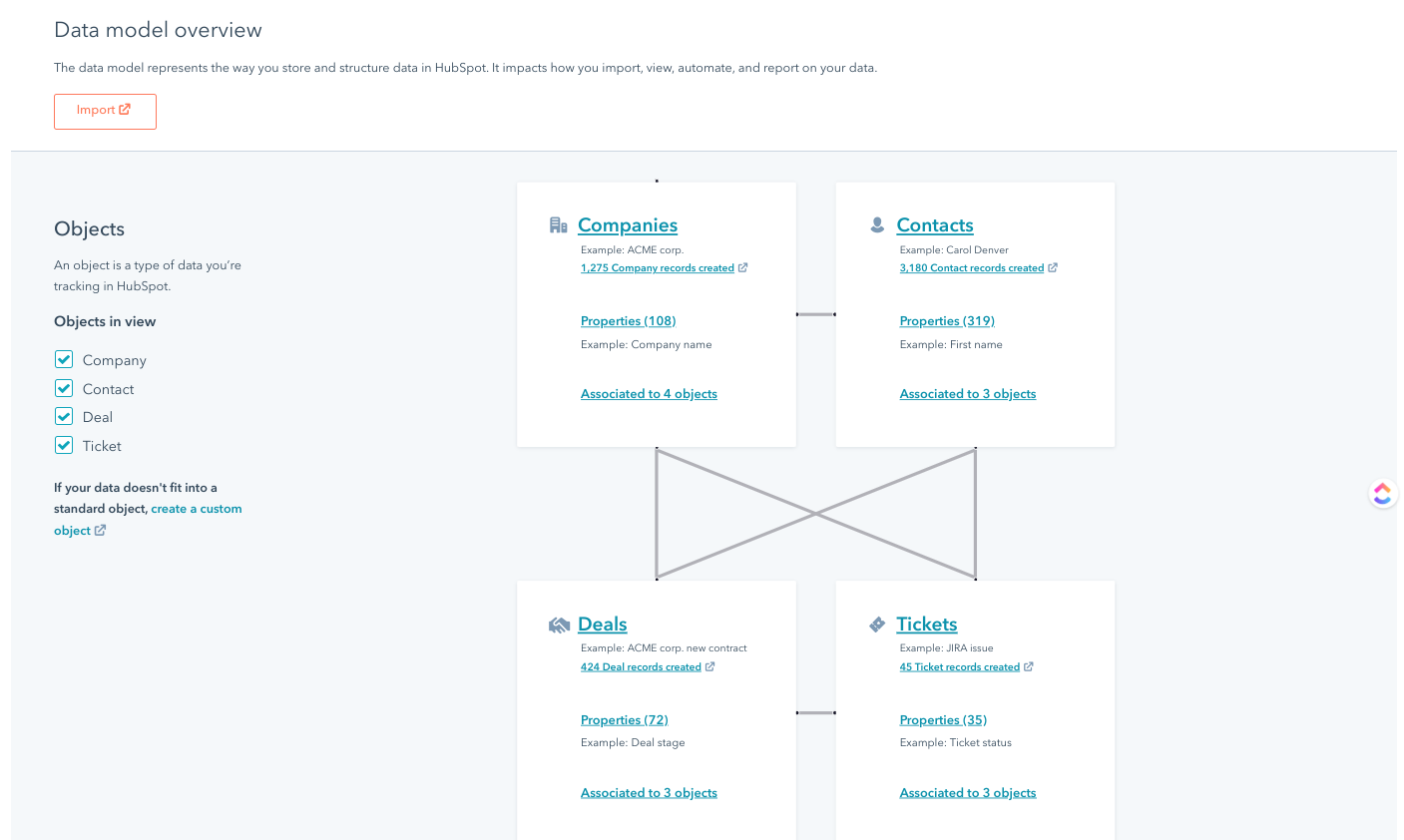 REMOVE DUPLICATES IN A FEW CLICKS IN YOUR HUBSPOT CRM
You are probably not the only one to find yourself with 436 duplicate contacts!
To avoid this, you need recurrent maintenance to merge your contacts. The same applies to companies.

The best thing to do is to set rules internally with HubSpot CRM users to ensure that whenever a duplicate is found, then it must be merged immediately (very convenient in HubSpot, it is done in 2 clicks).
To identify duplicates and mergers at a glance 👀 here is a feature that is revolutionary: The "Data Quality Command"
The "Data Quality Command" is a feature included in the Operations Hub, starting with the Professional plan. This is what it looks like 👇
And now you will say to me: But I don't have the Operations Hub, how do I do it?

You can simply go to the "Actions" button, then "Manage duplicates" on your contacts and companies, here are the links to get there:
Clean up duplicate contacts (https://app.hubspot.com/duplicates/YOUR_HUB_ID/contacts)
Clean up duplicate companies (https://app.hubspot.com/duplicates/YOUR_HUB_ID/companies)
MANAGE THE LACK OF INFORMATION IN YOUR PROPERTIES, AND DELETE THOSE THAT ARE USELESS
Oh yes, you shouldn't be afraid to delete things that are not needed. Obviously, you must first make sure that the property is empty. Go to your settings, and browse the properties of each of your objects.

📌 Good to know: You can't delete native properties in HubSpot, so try to use them as much as possible instead of creating custom properties.
To quickly clean up your properties, you can run data reports (reporting part) to see how many properties are unknown (filter on unknown).
But that's not all! With Operations Hub Pro and its advanced workflow actions you can automatically correct errors in your data.
SORT OUT YOUR TOOLS CONNECTED TO THE HUBSPOT CRM
As a CRM does not live alone, you probably have related tools like:


Telephony tool,
Project management tool,
Connected social media,
Advertising tools,
SEO tools,
Billing tool,
etc.
Take a look around and see which ones you really need.
You'll probably be surprised to see one or two tools lying around, but of little use to you on a daily basis. To avoid cumbersome API calls between HubSpot and the tool, don't hesitate to disconnect it.

Also, review the settings of your tools, i.e. whether the synchronization with HubSpot is well done, and whether the right data goes back into one system and/or the other. To be done here, in the settings of the connected applications (https://app.hubspot.com/integrations-settings/YOUR_HUB_ID/installed)