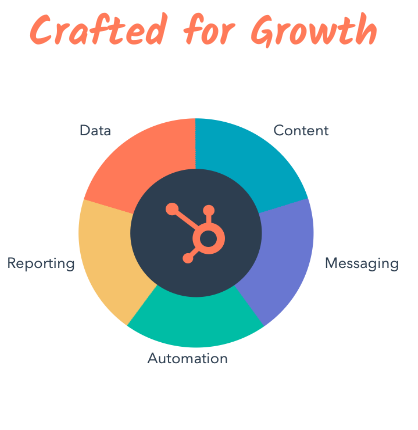 HubSpot Breaking News 2021: Operations Hub Launched
This is great news for all "RevOps" around the globe 🌎! And more generally, for all companies that are facing the incessant issues of operational alignment between the different "Customer Facing" teams.

HubSpot is launching the Operations Hub that will create more connection and consistency between different departments, it's called "Operations Hub". We explain what it is and how you can benefit from it.


The watchword on the Operations Hub: Enable focus on growth by better aligning teams and the Technology Stack
But first, here are 3 main features on which the Operations Hub is based:
Connect your daily work tools to each other
Clean up your database
Automate your business processes
📌 To know: Operations Hub is available on the Free, Starter and Professional plan.
1. Operations Hub - The end of silos and the beginning of "revenues driven"
All too often in companies (even the most "technological" ones), it is complex to understand the organization of each department and to align them around a common goal: Revenue generation.

Who hasn't found themselves in front of a Customer Service Manager and a Sales Manager, thinking "But do they really talk to each other sometimes? Are they working in the same way?"...

Or you're in a lunatic meeting with marketers and sales people, where everyone is throwing the ball around that they're not using the right tools to centralize data. In the end, you have data scattered all over the place and it's hell to use.

These are the two cases (and they are not the only ones!) that led to the birth of Operations Hub in HubSpot.
Operations Hub is based on 3 axes:

Having a single platform as a data source to make it easier the alignment of all customer facing teams
Allow each team to work on the same tool with a user-friendly UX, easy to learn for all
Break down the silos between humans and technologies used to focus on the essential: The customer
2. Operations Hub - Bi-directional data synchronization between your systems
HubSpot now offers custom field mapping via the Operations Hub.
The goal? To have exactly the data you need in your CRM, not just the standard properties like name and email address.

With the Data Sync feature, you have access to:

Bidirectional data flows,
Custom field mapping,
Historical synchronizations.
Data Sync is code-free, making it easier than ever to collaborate between your systems/tools.
And you don't have to go through developers anymore, "Mr. or Mrs. Everyone" can do it. A beautiful revolution!
Example: You want to synchronize only the Sales Qualified Lead (SQL) stage of the LifeCycle of contacts that are created or updated in Microsoft Dynamics with your contact records in HubSpot. This is possible in just a few clicks!
Microsoft Dynamics and HubSpot are just two of the software available in Data Sync. See the complete list here.
3. Operations Hub - Les automatisations ultra flexibles selon vos besoins
"Automation as flexible as your imagination." is what Operations Hub is all about.
Create custom programmable automation using JavaScript (NodeJS) for your different business processes.

Example: Customer contract renewals or subscription renewals can be managed automatically.
Very handy especially for SaaS companies!


With the Operations Hub you can create customized automations to manage post-sales processes "on your own": contract renewals, subscriptions, etc.
The Operations Hub helps your teams adapt and become more efficient through programmable automation.
You adapt your business processes (sales, marketing, customer service, etc.) to your needs, objectives and challenges.
And here again, great news: Workflows using "Custom Code" allow teams to automate anything! (yes you are living a daydream 😉 ).

Case in point: Want to schedule a lead rotation with a weighting that is not equal among team members?
HubSpot doesn't allow you to do this "out-of-the-box" unfortunately... but Hop! A little workflow via the Operations Hub will do the trick with a few lines of JS node!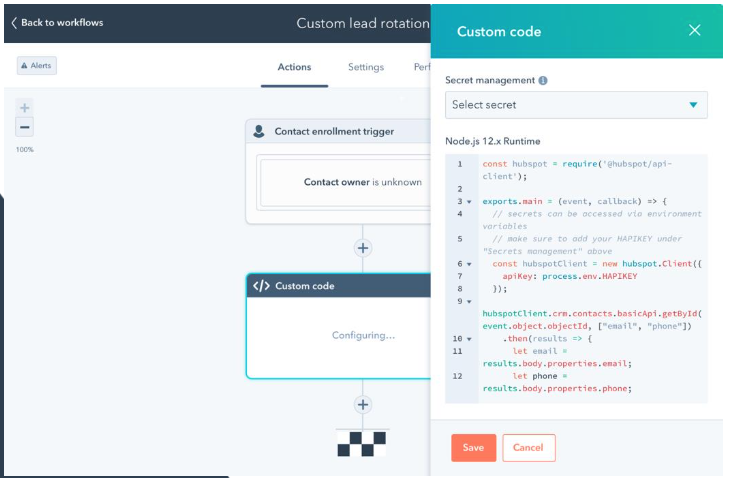 The power of this feature is infinite as it allows you to:
Manipulate data the way you want and save it as variables (and in HubSpot properties 😉 )
Calculate or analyze data with rules you decide
Call external APIs and thus push information to other systems as you wish
At Auxilio, we are very excited about this feature, as we used to schedule custom interactions with our clients' CRM and it always required setting up a third-party application. Now it will be much easier and faster, as we can now schedule directly in HubSpot!
4. Operations Hub - Automatically clean your database
But who hasn't dreamed of it?
You probably won't have to take a day every month to go clean up your HubSpot portal anymore.

The Operations Hub allows you to automatically correct several items such as date properties, format names and much more with the new out-of-the-box "Data Quality" automation.

Your teams can finally streamline their business processes and better manage their data, with a single "source of truth."
Thanks to the "Data Quality Automation" of the Operations Hub, you will gain in performance, in data quality and in alignment between your teams!
Concrete example: When your contacts fill out a form, in the "First name" field, sometimes they don't put a capital letter, which greatly annoys you, and when you use tokens in your emails, it doesn't look very good without a capital letter.
So you decide to take the bull by the horns and build an automation that will do it automatically. It's magical! 🔮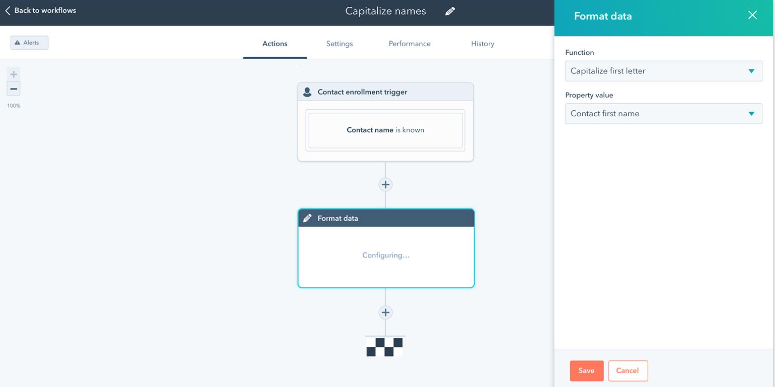 As you can see, this new Hub will help you gain consistency, align your teams, break down silos, and make your systems communicate better, so you can focus on the real source of growth for your business.

You can finally focus on generating revenue! 💵

If you would like to learn more about Operations Hub, please contact us.
To learn more about the Operations Hub, here are some resources: